Financial Literacy Month is celebrated in the United States each April. It provides an excellent yearly opportunity for HR and benefits professionals to promote financial education and wellness resources in the workplace.
By recognizing Financial Literacy Month, organizations can help their employees become more financially confident and make better decisions with their money. How can you best support your team's financial wellbeing this April? Read on for tips, tricks, and resources.
April 2023 financial wellbeing key dates
Download the full 2023 financial wellbeing calendar here.
What are the key financial wellbeing dates that employers should know for April? Explore the top dates below.
April 1st: April Fool's Day

April 2nd: Palm Sunday

April 5th: Passover Begins

April 7th: World Health Day

April 7th: Good Friday

April 9th: Easter

April 11th: National Pet Day

April 15th-21st: Money Smart Week

April 18th: Tax Day (Filing deadline for personal tax returns & C Corporations), last day to fund traditional or Roth IRA for 2022

April 20th: Ramadan ends

April 22nd: Earth Day

April 27th: Teach Your Children to Save Day



How to support your team's financial wellbeing during Financial Literacy Month
Here are some strategies for HR and benefits professionals to recognize Financial Literacy Month in the workplace in 2023:
Share financial wellbeing content and resources with your teams
April is a great time to share helpful financial wellbeing content with your workforce. Many leading companies partner with a trusted financial wellbeing program with access to digital tools, interactive education, and 1:1 calls with financial planners. This allows busy HR and benefits professionals to tap into the power and expertise of financial experts during the month of April, without any heavy lifting on their end.
Programs like LearnLux provide Financial Literacy Month resources via email, chat, and webinars. Topics such as budgeting, saving, investing, taxes, retirement planning, debt management, equity comp, and benefits can be covered during the month of April.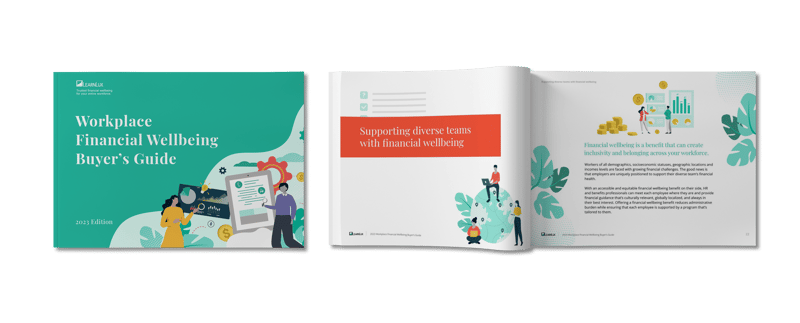 Exploring financial wellbeing programs for your workforce?
Tap into employee resource groups (ERGs)
Employers can work with ERGs to plan and promote financial literacy initiatives that are relevant to their members. For example, if an employer has an ERG for parents, they can organize a financial wellbeig workshop on saving for college or budgeting for child-related expenses. Benefits teams can encourage ERG participation by providing incentives or recognition for members who attend financial literacy events or engage with financial wellbeing programs. This can help motivate employees to improve their financial wellbeing and also increase engagement with ERGs.
Conduct financial wellness assessments
How is your workforce feeling, financially? HR and benefits professionals can tap into financial wellness assessments in April to help employees understand their current financial situation and identify areas for improvement. These assessments can be conducted through surveys or 1:1 meetings with employees. Many employers choose to administer financial wellbeing checkups and assessments through their trusted financial wellbeing program. Having a neutral third party administer the assessment allows employees to engage with the survey and know that their information will not be seen by their employer.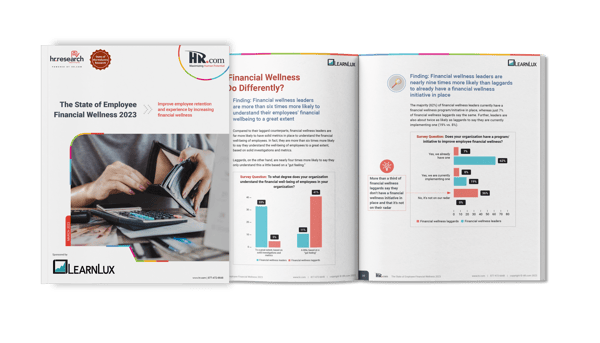 How are employees feeling, financially? Explore new data from the HR.com and LearnLux State of Employee Financial Wellness 2023 report.
Incorporate financial wellbeing into employee onboarding
HR and benefits professionals can set aside time in April to incorporate financial wellbeing resources, including benefits decision assistance, into their employee onboarding process. This ensures that new hires understand the company's total rewards offerings and how it fits into their full financial picture. With a holistic financial wellbeing program on your side, HR and benefits teams can save hours during employee onboarding. This is achieved by directing new hires to explore custom lessons on your company's benefits, check out the interactive benefits portal, and get 1:1 guidance from a trusted Financial Planner who is knowledgeable about each employee's specific benefits offerings.
Host a financial wellbeing challenge
During the month of April, organizations can hold financial wellbeing challenges for employees. Challenges can be competitive, where employees compete to see who can save the most money, pay off the most debt, or improve their credit score the most over a set period of time. Or, challenges can be individual in nature, where the goal is set and an employee is working to make progress towards their own financial situation over the course of the month. Challenges can be a fun and engaging way to promote financial literacy and wellness in the workplace. Each April, LearnLux hosts a 30-Day Financial Wellbeing Challenge that's open to all of our employer partners to participate. Explore the 30-Day Financial Wellbeing Challenge case study to learn more about this program and its powerful results.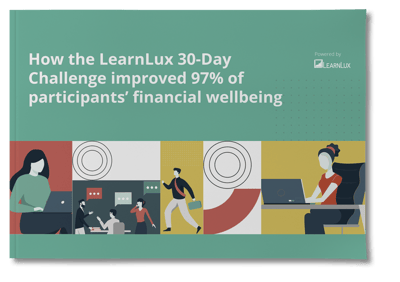 Explore outcomes from the LearnLux 30-Day Financial Wellbeing Challenge.
Offer financial incentives
Organizations can offer financial incentives such as matching contributions to retirement accounts, bonuses for paying off debt, or prizes for completing financial education challenges. These incentives can motivate employees to take action to improve their financial situation in April and beyond.
---
Financial Literacy Month provides a valuable opportunity for HR and benefits professionals to promote financial education and wellness in the workplace. By offering a holistic financial wellbeing program, along with sharing resources, hosting workshops, and providing incentives, organizations can help their employees become more financially literate and make better financial decisions.