According to newly released data from JP Morgan, workplaces today are making employee financial wellbeing a #1 priority.
The J.P. Morgan Asset Management Defined Contribution Plan Sponsor Survey reveals that over the last decade, employers have increasingly prioritized their employees' financial wellbeing and retirement security.
The survey also indicates a notable shift in plan design and investment strategies toward financial wellbeing and retirement income.
Financial wellbeing programs are critical to employee retirement readiness
Here are key findings from the survey, which captures more than a decade of data and insights:
Today, 85 percent

of employers feel a strong sense of responsibility for employee financial wellness. This is

up from 59 percent

in 2013
Employee benefits are increasingly top of mind, as more than

seven out of 10 surveyed sponsors now offer employees life insurance, six out of 10 now offer disability insurance and mental health benefits, half make health savings accounts (HSAs) available and just under half provide paid parental or caregiving leave
Employers with a financial wellness program in place more often see their retirement plans as effective in meeting key goals, compared with those without such a program. 95 percent believe financial wellbeing programs are critical in ensuring employees have a financially secure retirement
Survey insights
"Our enhanced Plan Sponsor survey highlights the industry shift as plan sponsors begin to recognize the interconnection of overall employee financial and personal wellness. Retirement income, student loan debt assistance and emergency savings programs are all being discussed more and it's exciting to see that companies offering these types of programs see their retirement plans as more effective," said Alexandra Nobile, Vice President, Retirement Insights, at J.P. Morgan Asset Management.
"The implications of SECURE 2.0 serve to only accelerate this trend and we expect to see more plan sponsors taking a proactive approach to evolving their retirement benefit offering through innovative DC plan design."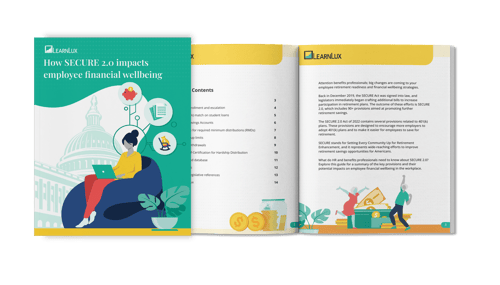 More employers plan to offer financial wellbeing programs
Around 40 percent of employers already offer financial wellbeing programs beyond traditional retirement and health benefits, and an additional 30 percent are considering introducing such programs this year.
Focus on employee financial wellness aligns with various factors, including changing workforce dynamics, increased awareness of the importance of retirement planning, and regulatory changes that encourage more comprehensive and proactive retirement benefit offerings. This trend is expected to continue, with employers across all industries making financial wellbeing a top priority in the coming years.